White Oaks Home | Sketches Index | Mars 2003 Index | Back | Next

We're off to Yosemite with the San Jose Astronomical Association July 23 - 27, 2003. Each weekend, except full moon weekend, from July to September, California astronomy clubs enter a lottery and are granted a weekend at Glacier Point. In exchange for park entrance and a group campsite, the clubs are required to present two star parties and astro-talks on Friday and Saturday to the national park visitors at Glacier Point. We go up early for some less crowded observing the day or two before the other arrive.

This is one of the finest observing spots in the USA, and we bring our telescopes here a couple times each summer. We'll be back again at Glacier Point once more during this Mars Opposition - August 15 - 17, 2003 with the San Francisco Amateur Astronomers. First picture below is the telescope setup area at the Glacier Point ampitheatre during the SFAA 2001 outing. William Phelps with his F/9 AP180EDT is in the background. Phil Ilotis is in the foreground with his exquisite teak 12-inch f/7 reflector, "Christine".

The second is a picture of our f/9AP180EDT "the Rod" overlooking Half Dome in July 2003, just before we give our twilight astronomy talk to the Yosemite park visitors. Thee ws not much time to sketch while. A 7-inch refractor gets lots of attention! I had to wait in line to sketch through my own telescope.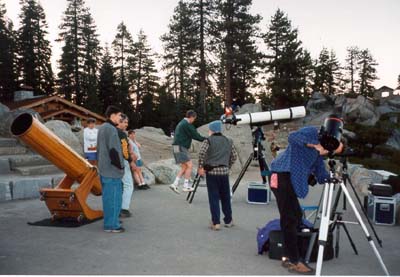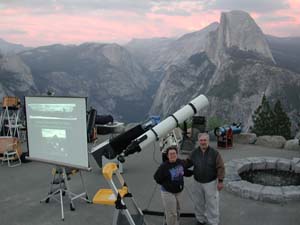 White Oaks Home | Sketches Index | Mars 2003 Index | Back | Next