White Oaks Home | Sketches Index | Mars 2003 Index | Back | Next

Sketched August 14, 2003 from Glacier Point, Yosemite National Park 11:30 p.m. pacific DST (daylight standard time) or 06:30 UT August 15. Near full moon and some cirrus. Transparency LM 5.0, seeing good.
| | |
| --- | --- |
| Date: 08/15/03 Lat 37N, Long 119W, elev. 7,200 feet | Sketch Time (UT): 6:30, (local time): 11:30 p.m. DST |
| Central Meridian: 179° | Filters: none |
| Instrument: 7.1-inch (180mm) f/9 Astro-Physics Starfire Apo refractor. | Distance from earth 0.38 AU, 57m km, 35.3m miles |
| Magnification: (25mm) 195x Zeiss Abbe Ortho combined with a 2.4x AP Barcon Barlow | Transp. 2/6 (near full moon), Seeing 5/10, Antoniadi (I-V): II |
| Apparent Size: 24.4" | Magnitude: -2.7 |
Details about Mars: Mare Chromium is the dark feature just below the south polar cap. Mare Sirenum and Mare Cimmerium are the long dark features crossing the planet. Hellas is on the right limb, Eridania is the light feature (a circle in my drawing) above Mare cimmerium. And the circular lighter feature above Mare Sirenum is Electris. A slight and very subtle ligher circle near the north polar area is Elisium, not Olympus Mons. Limb haze and north polar hood are visible in the sketch. I can see the far edge of the shrinking south polar cap too.
Details about Mars: Diameter 24.4 arc seconds (Jupiter is about 30 -50 arc seconds in diameter depending on its distance from earth). Central Meridian 179 - the imaginary line passing through the planetary poles of rotation and bisecting the planetary disk, and is used to determine the longitude during an observing session.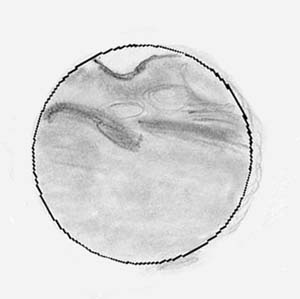 White Oaks Home | Sketches Index | Mars 2003 Index | Back | Next