White Oaks Home | Sketches Index | Mars 2003 Index | Back | Next

Sketched August 31, 2003 from Anza Borrego State Park, San Diego County, 11:30 p.m. pacific standard time or 06:30 UT August 31. Seeing excellent, transparency LM 6.0.
| | |
| --- | --- |
| Date: 08/31/03 Lat 33N, Long 116W, elev. 562 feet | Sketch Time (UT): 6:30, (local time): 11:30 p.m. DST |
| Central Meridian: 38° | Filters: none |
| Instrument: 4-inch (105mm) f/6 Astro-Physics Traveler Apo refractor. | Distance from earth 0.37 AU, 55.5m km, 34.4m miles |
| Magnification: (6mm) 200x Zeiss Abbe Ortho plus 2.4x AP Barcon barlow | Transp. 5/6, Seeing 9/10, Antoniadi (I-V): I |
| Apparent Size: 25.01" | Magnitude: -2.9 |
Sinus Meridiani and Sinus Sabaeus are on the left limb, a snakey feature. Then what I think is one of the prettiest features on Mars, Chryse and the the ragged edge of Mare Erythraeum above (South) and Niliacus Lacus below (North).
Details about the sketch: I used my 105mm (4.0-inch diameter) f/6 Astro-Physics Traveler, 6mm Zeiss Abbe orthoscopic eyepiece for 200x. Sketched from Borrego Springs, San Diego county August 31, 2003. Longitude 116W, Latitude 33N, elevation 562 feet. Seeing 9/10 and transparency 5/6.
Details about Mars: Diameter 25.01 arc seconds (Jupiter is about 30 -50 arc seconds in diameter depending on its distance from earth). Central Meridian 38 - the imaginary line passing through the planetary poles of rotation and bisecting the planetary disk, and is used to determine the longitude during an observing session. Key features are Solis Lacus and the South Polar cap. More details when I have more time.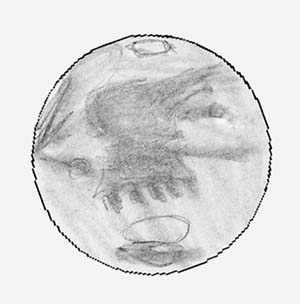 White Oaks Home | Sketches Index | Mars 2003 Index | Back | Next